Lexacom Echo supports a range of commands for utility and to help increase productivity. There are a wide range of built-in commands below. You can also create your own custom commands for key presses or inserting blocks of text.
Echo Voice Commands
To activate a command, Echo must interpret your dictation as a self-contained phrase, not as part of a sentence. Pause before giving a command, and before you resume dictating or give another command.
Commands are best used as their own dictation – release the record button and press it again to use a command.
Commands emulate either a single keystroke (e.g. pressing a function key), or a combination of key presses (e.g. pressing Ctrl + Z to undo). A full description of the current commands can be found in this document.
Where to find Voice Commands
A complete list of voice commands, including custom commands can be viewed by switching on the microphone and saying: 'what can I say'.


Click on the down arrow on the right-hand side to open a category and view the commands. The command to say is written in bold on the left. On the right is the action(s) to be carried out.
Some key press commands, such as press enter, have an optional number after them in brackets. This allows you to tell Echo to call out the command multiple times without having to repeat it. For example, you may be in a form or template where you can press the tab key twice to move to the next section without needing to click your mouse. In that instance you can say press tab two and Echo will press the tab key twice. You can say any whole number up to 20.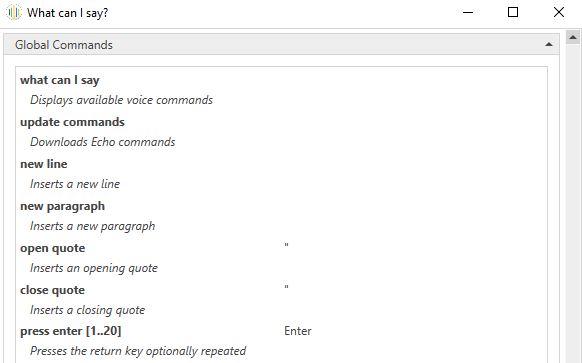 The Global and Default commands will work in all programs. The Outlook commands will only work in the desktop version of Outlook.
There are also commands for the EMIS Web and SystmOne clinical systems.
How to use Voice Command Only mode
Echo will recognise both text and voice commands when in the normal record mode. To prevent Echo from mistakenly writing text, it can be instructed to only recognise your speech as commands.
If you have an Olympus RM 4010p microphone, hold the 'i' button (above record) on the handset. Echo will go into record mode but can only execute commands. It cannot transcribe text in this mode.