Lexacom Echo supports a range of commands for utility and to help increase productivity.
To activate a command, Echo must interpret your dictation as a self-contained phrase, not as part of a sentence. Pause before giving a command, and before you resume dictating or give another command.
Commands are best used as their own dictation – release the record button and press it again to use a command.
Commands emulate either a single keystroke (e.g. pressing a function key), or a combination of key presses (e.g. pressing Ctrl + Z to undo).
Please see How To Use Echo Voice Commands for full information and how to access the list of general built-in voice commands.
EMIS Web Commands
These commands function in the EMIS Web clinical system. These commands will not work in other applications unless also shown as a command for that application. Some keyboard shortcuts and function keys are context-dependent (e.g. F4 is used to add consultations, medications etc. depending on the current window), and so the commands have a similar requirement.
Saying the commands in the left column will perform the action in the centre column. Alternatively, a keyboard shortcut is in the column on the right.
How to add custom Keyboard shortcut Commands
Many common actions in EMIS already have voice commands build into Echo. You can also create your own. Please see How to Create a Custom Keyboard Shortcut Command
View your Appointment Screen and Workflow

Searching for a patient

Viewing Patient information

Consultations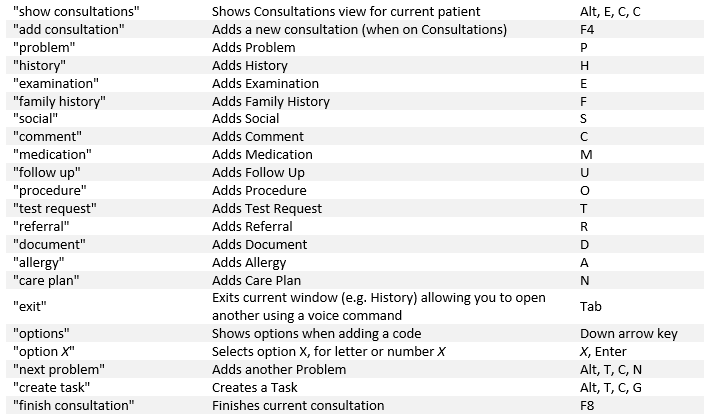 Medication

Problems

Investigations

Documents

Referrals