When Lexacom is installed a Group Administrator account is created in Lexacom Cloud and details are entered in to the Product Registration of Lexacom Admin. The Group Administrator does double duty as your licensing details for Lexacom 3 and your login to lexacomcloud.com to manage Lexacom Mobile and Lexacom Scribe.
As Group Administrator is used to license your Lexacom platform the Administrator must update these details in Lexacom if they ever change. If these details are not up-to-date Lexacom Scribe and Lexacom Mobile functionality will be suspended.
To do this;
Log in to Lexacom Admin
Go to  > Product Registration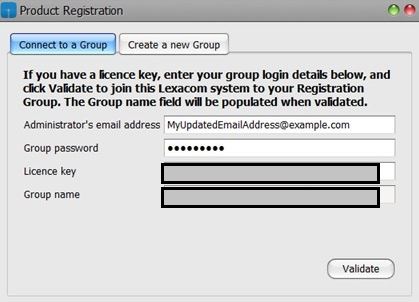 Update the details with new information as required e.g. Group Password updated on www.lexacomcloud.com 
Click Validate
This will congratulate you if successful.

If details have been changed on LexacomCloud and not updated in Product Registration then in 8 days Lexacom will cut off access to the program for Talk and Type users, showing a message of unable to contact the license server for 8 days. This can be resolved by correcting the Product Registration and validating it. See How To Troubleshoot "Unable to Connect to License Server for 8 Days"