The View Tracking menu item displays the Lexacom Administrator Tracking which is used to show and monitor all dictations within the Lexacom system, regardless of who has created or worked on the dictation, or the dictation's current location within the workflow.
Log in to Lexacom Administrator
Go to > View Tracking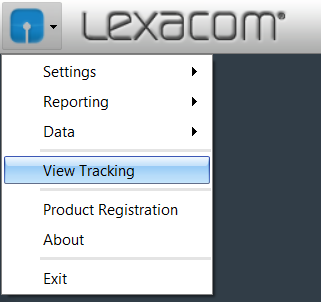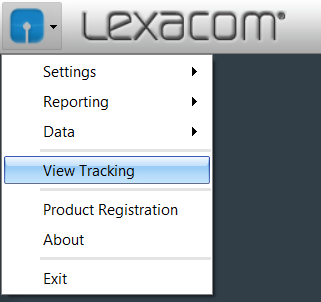 The Tracking Grid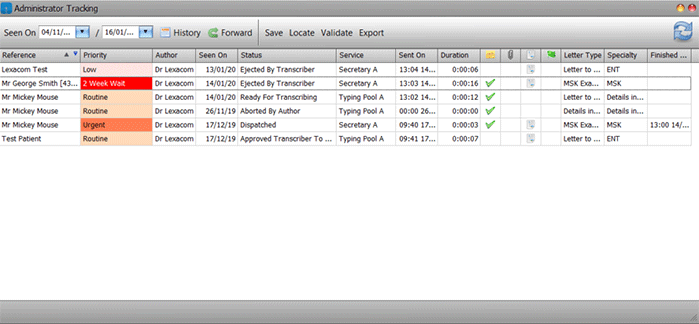 Seen On Range

The Seen On Range is used to adjust the date range currently viewed. The Seen On range defaults to the last week; the start and end date may be adjusted as required.
History Button

The History button is used to display the history of the currently selected dictation.
Forward Button

The Forward button is used to forward the currently selected dictation to a different user, pool or service.
Save Button

The Save button is used to save changes to dictation statuses made within the Administrator tracking.
Locate and Validate Buttons

The Locate button is used to check for the presence of the audio file on the server for the currently selected dictation.
The Validate button is used to check for the presence of the audio file on the server for all dictations currently visible, updating the Disk Status column.
Export Button

The Export button is used to export the current grid view into a number of formats including Microsoft Excel spreadsheets.
Refresh Button

The Refresh button is used to refresh the contents of the Dictation grid to update to any changes to the displayed information.
Filtering
To filter the Tracking view, hover over the title of a column to produce the filter symbol in the top right corner of that cell. Click on the filter to select filter options.
Be mindful that filtering Tracking will amend the view until the filter is cleared. To clear the filter, select "Clear Filter".