Dictations can be sent to Lexacom Scribe by Talk, Type or Admin users but only the Lexacom Administrator can control who has this ability.
This article explains how to send to Lexacom Scribe from Type or Admin profiles as most organisations prefer to use the typing pool tracking feature for workflow oversight.
If your organisation would prefer Talk Users to send dictations to Lexacom Scribe please contact the Lexacom Helpdesk.
Users must have been configured with Lexacom Scribe access in order to send dictations to the service. See How To Configure Lexacom Scribe
Sending Lexacom Scribe dictations from Admin
Log in to Lexacom Administrator
Go to > View Tracking
Select a dictation from the Typing Pool – only dictations with the status "Ready for Transcribing" can be selected
Click Forward and Forward To options will appear
Select the Lexacom Scribe Typing Pool and click Forward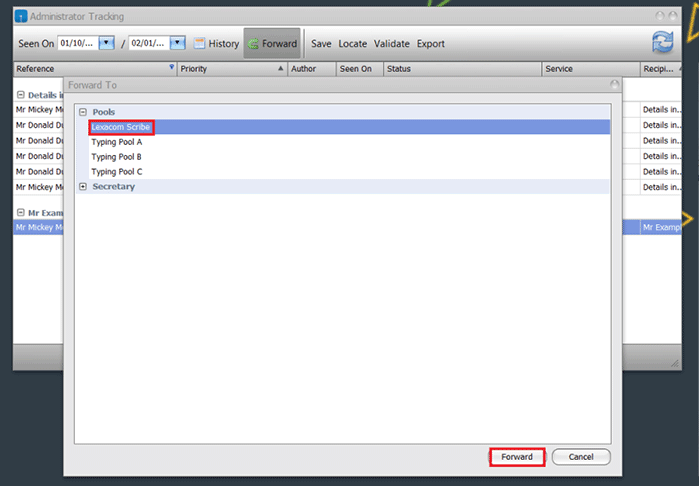 The status of the dictation will now change to "Sent to Service" indicating that the dictation has been sent to Lexacom Scribe
Repeat this process for every dictation that you want to send to Lexacom Scribe.
To track the dictation progress, click "History"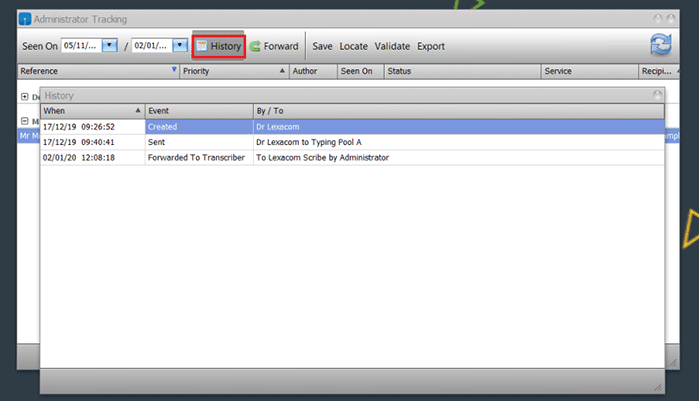 Sending Lexacom Scribe dictations from Type
Log in to Lexacom Type and select a dictation from the Typing Pool
Click Forward
Forward To options will appear
Select the Lexacom Scribe Typing Pool and click Forward