When Lexacom is installed a Lexacom Cloud account is created for the site using a unique email and secure password, this is the Administrator Cloud account and can be accessed using the email/password credentials created at the point of install. This account links your Lexacom System to the Lexacom License Server.
When a user creates a Lexacom Cloud account to be able to use Lexacom Mobile, these profiles are then linked to the site's Administrator Cloud account.
To create a Lexacom Cloud account
Log on to Lexacom Talk.
Click on the 'Settings' button

Click on the 'Other' tab
Enter the email address and password (which must contain a capital and number) you wish to use as your Lexacom Cloud Account and click 'Register'.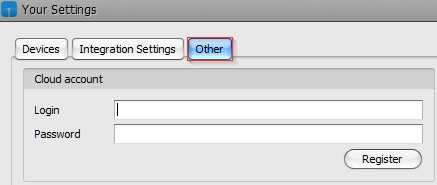 If you have not already registered with the Lexacom Cloud, you will be sent an email to the entered address to authenticate your account
Once your details have been validated, your administrator will be sent an email asking them to confirm your application to use Lexacom Mobile at your organisation.
Once they have approved your request, you will be informed by email.