If an additional Lexacom user require EMIS Web Integration settings need to be changed in EMIS Web and Lexacom to permit access
In EMIS Web
Log on to EMIS Web as a user with Administrator privileges.
Click on the EMIS logo > select System Tools > then EMAS Manager > Partner API  
From the list of Partner APIs select 'Lexacom'
It should have a green tick indicating product integration is live
Click 'Edit Users' button and ensure that all users who need to have access to Lexacom are selected.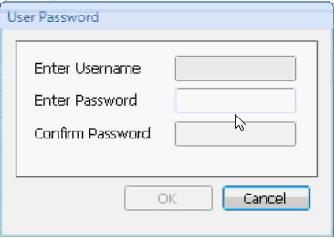 Once you have selected a user, click on the "Change Password" link and assign the user an API password.
NB. There will be no need for the EMIS user to remember it. The password must contain one capital and one number.
Click 'Login Access' button and a window will open showing all the EMIS users on the system.
NB: This list may be very long. It might be useful to sort the users by name by clicking on the column title.
Tick the 'Login' and 'Auto Login' boxes for all users who require Lexacom integration
When all users have been granted access, save the settings by closing this window.
In Lexacom
Log in to Lexacom Administrator
Go to > Setting > Clinical System > 'Manage Users'
Select the name of the EMIS Web clinical system at the top of the window.
Tick the 'Enabled' checkbox for all users – both Talk and Type – who require access
The first time each user attempts to use the EMIS Web integration, they will be asked to log on to 'activate' their account.  This only needs to be done once and will require the password set in the EMIS Steps above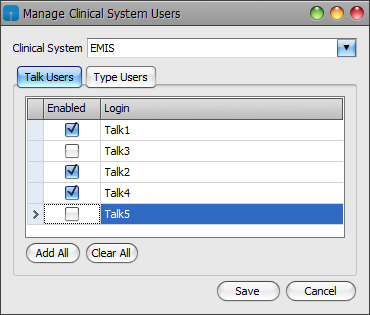 To configure individual user settings in Lexacom Admin
Go to

> Settings > Users Editor
For Lexacom Talk Users:

Click on the Talk tab
Select the user profile
Click Edit
Tick Retrieve Subject on Record
Click Save

For Lexacom Type Users

Click on the Type tab
Select the user profile
Click Edit
Tick Select Subject on Loading
Click Save