When Lexacom is installed a Lexacom Cloud account is created using a unique email and secure password.  The same happens when a user creates a Lexacom Cloud account to be able to use Lexacom Mobile.
If the password is forgotten or if you wish to change it for any other reason, please follow the instructions below to create a new secure password.
Go to www.Lexacomcloud.com and click 'Login' at the top right of the screen.
Click 'Forgotten Password?' underneath the 'Login' button.
Enter the email address used for your Lexacom Cloud account and click on 'Submit'
If the email address is matched to your account it will say
'An email has been sent to name@emailaddress.co.uk from cloud@lexacomcloud.com with a link for you to reset your password'
Check your email account and open the email from 'Lexacom Cloud'.
Click 'Reset Your Password' link (or copy and paste the link into your browser) and enter your email address and new password as requested.
Your change will be verified as successful.
If the below steps are not undertaken, your Lexacom software will stop working 8 Days later
The Lexacom Administrator must log in to Lexacom and click on Product Registration from the menu.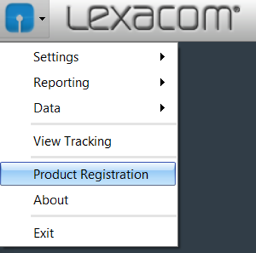 Click  on Connect to a Group tab
In Group Password enter your new password for Lexacom Cloud and click 'Validate' to confirm the change.
If you are using Lexacom Mobile, please log into the account again from the settings menu using the new password and select the correct group and settings from the default menu.