A Lexacom Mobile account can only be created by the Talk user. However, the registration must be approved by the Lexacom Administrator in Lexacom Cloud before it can be used.
This is a necessary security step to ensure that you can control who is able to send work from a mobile device to your organisation.
When a Talk User registers for Lexacom Mobile an email is sent to the email address registered to the Lexacom Cloud Administrator account.
If an Administrator is happy to approve the Lexacom Mobile request from this user they must follow the steps below:
Click on the link in the email to go to the Lexacom Cloud website.
Log In to the Lexacom Cloud account
If you require assistance with your Lexacom Cloud password please refer to How To Change Your Lexacom Cloud Password
The user requesting Mobile App permission will be displayed.  Change their Active status to Yes.
Only change their Administrator access to Yes if you wish them to share the administrator role with you. (Not recommended).
Click Save to confirm the user has been activated.
Close the Lexacom Cloud window and log in to Lexacom as Administrator
Go to the Settings menu and then select Mobile User Settings.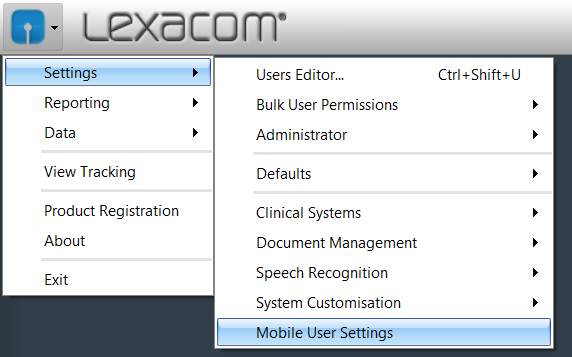 Click the Synchronise button.
The User can now log on to Lexacom Mobile.
If you wish to remove this user's access, you can do so by logging on to the Lexacom Cloud website and changing their Active status to 'No'.