Prerequisites
The Team for the organisation has been set up
The user has been added to the Team
Accepting the invitation join your Team
To be able to use Echo 2, you must accept the invitation to join you team. You will receive an email
containing a link. This needs to be clicked to confirm your registration.
Clicking this link will take you to admin.lexacom.com where you will be invited to create a password.
This must contain at least one number, one capital letter and a minimum of eight characters.
You will then be prompted to log in. Your username is your email address you were registered with.
After you have logged in to admin.lexacom.com for the first time there will be a section called
'Pending Invitations' on the 'User' page.
You must click the green tick to accept the invitation to be able to use Echo 2.
Downloading the Echo 2 installer
To download the installer for Echo 2, go to the User tab at the top if you are not on that page already.
Click the Echo for Windows link under My Applications. You can log back in at any time to download
the installer again as necessary.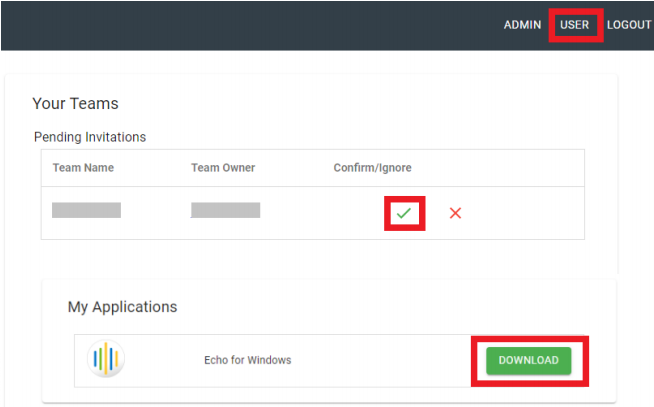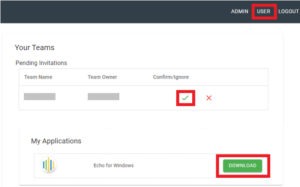 Installing Echo 2
Important note on installing for multiple users and PCs
When Echo 2 is installed it is only available for the user who is currently logged into Windows.
If another user wishes to use Echo 2 on the same PC, they will also have to download and install it.
Likewise, if you move to a different PC you will have to download and install it there as well. If there is a requirement to install Echo for all users on a particular workstation, please contact the Lexacom Helpdesk in the first instance.
Once the download is complete, double click the installer called Echo Setup v2.2.0. A window will then appear:
If Windows Defender Attempts to block install go to More Info > Run Anyway
Check the license agreement box and click Install.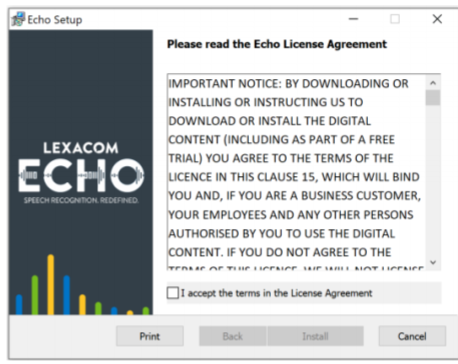 You will have a notification when installation is complete.
Click Finish to load the application. Keep Launch Application ticked if you want Echo 2 to open immediately.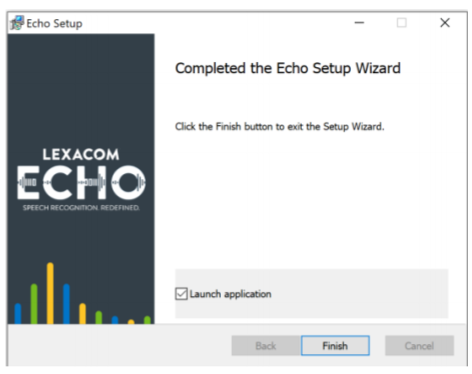 See How To Use Echo for instructions on how to log in and use Echo 2.
Notes
Microphone – Echo 2 will use the default microphone on the machine. If it is a laptop, the webcam mic may pick up audio. Make sure the desired device is plugged in before opening Echo 2