Speech Recognition Update – A word from Mark Baglow
Here is my latest Speech Recognition update.

I have always been a fan of finding ways to make life easier.
I have a passion for technology and am a keen advocate for speech recognition. Knowing just what a tremendous impact it can have on not only your own productivity but the efficiency of a busy team and organisation.
Having worked with Lexacom for some time now. And watched the growth in speech recognition users. Particularly in the last 12 months, this certainly got me thinking, and looking for ways to make this more accessible.

Speech recognition is one of the fastest-growing and most exciting areas in technology.
It has the potential to really boost your productivity while saving you huge amounts of time.
Gone are the hours of endless typing, replaced by the ease and simplicity of dictating. You can simply speak into the microphone and the words appear on the screen in real-time.
Imagine being able to create your letters, emails, and other documentation with just your voice.
It surprises me that more people aren't already exploring this.
I think it is not until you see, and more importantly, try, this kind of technology for yourself that you get a sense of just how much this can transform your ordinary working practices.

Here at Lexacom, we are always looking at ways to make life easier, and so I jumped at the chance to host a series of webinars to showcase our range of solutions.
We have already seen such a huge success in the uptake of both Lexacom Echo and Dragon Medical following the launch of these webinars, and so have made sure that there are plenty of dates available and that the entire session is informative and ultimately a good use of time for those attending.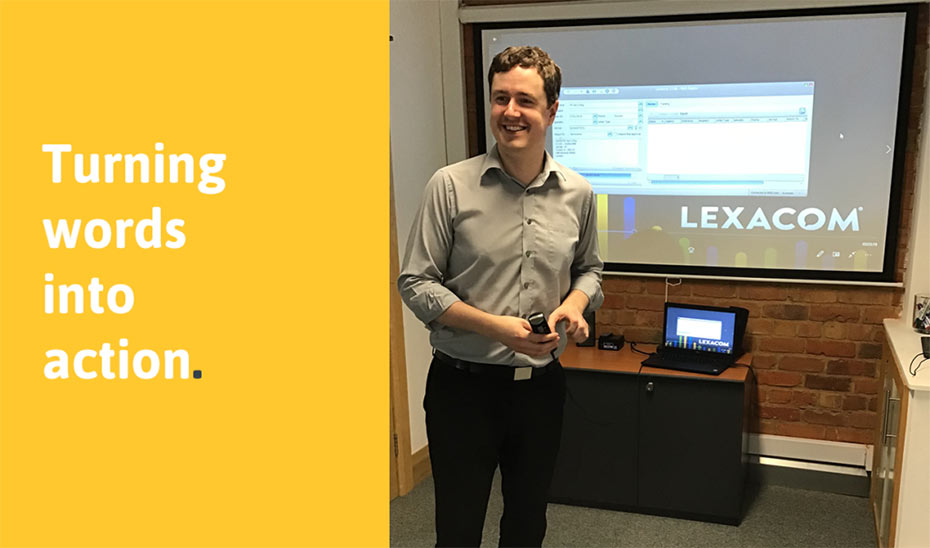 I am overwhelmed with the success we have had with speech recognition in recent months.
Having completed a large-scale rollout of Dragon Medical in and across London, we are also about to begin an even larger project with Lexacom Echo across the Midlands.

The key is in the detail and with such a fantastic training and implementation team around me, knowing that these projects are well orchestrated from start to finish, including specialist 1-2-1 bespoke training, I am already confident we shall see more great results for our customers.
I am often asked which is better and I honestly couldn't give you an answer.



Lexacom Echo is our very own solution, it works as an add-on to your existing Lexacom platform and allows you to dictate straight into programs such as word, emails, and clinical and administrative systems.

We have made it as simple as possible to use in both live and deferred modes to ensure you start getting the benefits from day one.

Dragon Medical Practice Edition is another solution. This does not require Lexacom or any other programs to be installed in order to use it, and will also turn your voice to text into a variety of different programs. 

Both are incredibly advanced and will make a fantastic addition to your working practices.
I look forward to another exciting year for the speech recognition team at Lexacom and do hope that if this is a solution you are thinking of exploring that you are able to join one of our upcoming webinars.